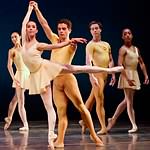 Roger's Online Diary Fall 2005 [
WebPage
]
Purpose:
The purpose of this WebSite is to create a resource ( which can be linked to from their own WebSites ) for both ballet and modern dance schools - while at the sametime providing a system in which their own WebSites can be more noticable in general keyword searches. This explains the close connections to the Night Life ( NightLife ), RMC series of WebSites.
In addition, and what will be added to this WebPage column, there are others who are also assisting ballet, modern, belly, and lyrical dance schools efforts in gaining attention in the INTERNET with regards to keyword searches.
" Historically the number one person who make claims in starting this is a very dedicated Arts - Dance Photographer Amy Reusch. She is by far, especially if you compare with other dance related people on the INTERNET, the most dedicated dance support person in INTERNET history. She has helped far more people in hyperspace than any other. "
Sometime everyone should email her a thank you, and if you know of any awards which suites her category of public INTERNET service, nominate her too !
The other, and who followed Amy Reusch is Cyber Dance dot Org [
http://www.cyberdance.org
] who in late 2005 ( according to their WebSite ) will be updating their WebSite since they ( or who ) updated it last in the year 2000.
You should make every effort to links with us. My efforts, though, is at main - streaming ballet and modern dance into a broader spectrum within the INTERNET in how keywords, and descriptions meta-tagging are presently being conducted. Thus the NIght Life ( NightLife ), RMC WebSite, the actual word associations, series is then better understood.
In point of fact, and what you should also know, is that I have had a two year background in classical ballet too!
Later on when I find others, so that you can too link, they will be placed her too !
WebMaster Roger M. Christian.
One last note, the creative capitalization of " W " eb " S " ites is pre - programing the INTERNET. The INTERNET is in fact one large Fortran International wide computer program - developed initially by the US Navy.
On this page we will list all of the products we offer as part of our main product line. Please check in often because we will frequently update the product pages with new items.
Latin Dance Classes Ithaca
Ithaca Dance Classes Class Schedule
Tri Falcon and Dove Producations * 103 West Seneca * Suite 206A * Ithaca * NY * 14850
Ballet and Modern Dance is Fun in: